There's no better feeling than receiving that package you have been waiting for all week! Whether you ordered something online, or you were waiting for a friend's package from across the country; your special delivery has been on a remarkable journey. But have you ever wondered about all the places your package has passed through? From the moment your package is prepared for shipping, it has gone through various trucks, trains, and/or shipping containers, and each package has a story to tell!
The most interesting route your package will take is when aboard a shipping container – a steel container used for shipping or storage. These containers make great room for storage space, and come in all types of sizes, and some are even equipped to be refrigerator containers. In most cases, shipping containers are manufactured overseas, filled with cargo (ex. Your package), then shipped to the United States, and sold as a storage container. The life span of a container being shipped around is short, but the use and function of a shipping container is endless.
Due to China's surplus of exports, 90% of shipping containers are manufactured in China. Once the container is manufactured, it is then sent to a port, where it is then loaded and prepared for its journey.
Image via Crowley
Your package may have sailed through different ports in Asia, Europe, or even South America before it reached your doorstep. But once a shipping container has made its way to its destination, it is either sold for storage, or it finishes its journey as a large truck on the road.
Repurposed Shipping Containers
A shipping container may be repurposed into various structures; like restaurants, coffee shops, pop-up stores, playgrounds and more! Since repurposed shipping containers started showing up all over the world, there are some organizations that take these containers to the next level. Using the containers for the better of the community and environment.
Matchbox in South Africa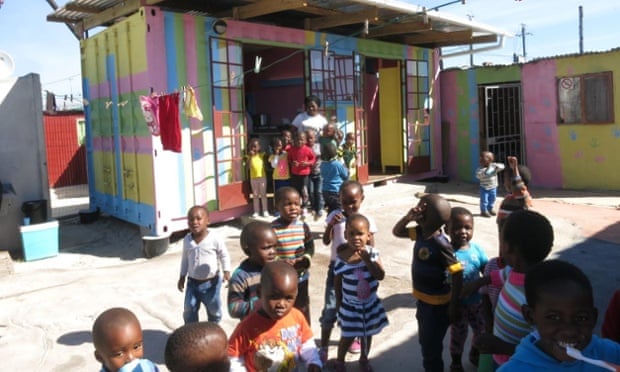 Image via The Guardian
People around the world have purchased containers and upcycled them for multipurpose structures. In South Africa, a shipping container is used as the foundation of an established childcare service. These repurposed containers provide daytime shelter for children whose parents are away working during the day. It also provides stability for the childcare service that was established way before the shipping container was involved.
Local Shipping Container Produce
Image via The Washington Post
In Minneapolis, one man is changing the way grocery stores buy and sell their produce – through his shipping container crop. Ryan Sweeny has repurposed a shipping container to grow basil and other herbs. This insulated and refrigerated container allows Sweeny to grow his basil year round, using LED lights and without the use of pesticides. As an entrepreneur, Sweeny was able to increase his asking price from $8/lb of basil to $40/lb. This revolutionary and innovative way of growing herbs is a prime example of the many ways shipping containers can be repurposed for the better of the environment.
Freitag
Image via Freitag
The use of a shipping container is incorporated with this inventive start-up that creates unique, handmade messenger bags from recycled material; all through the doors of shipping containers. Freitag describes their bag making process in five simple steps, going from finding raw material, cutting tarps, washing, designing, and sewing; these handmade bags offer a unique way to show off upcycled raw material. Since starting out, Freitag has increased their number of products, which consists of different types and sizes of bags. The array of products is manufactured in repurposed shipping containers. Along with using recycled raw material, Freitag gives back to the artistic community by holding contests of designing your own container.
Homes
Image via IES
It seems as if using a shipping container as a building foundation has become a trend; and with this trend, there's a good chance that your package that you received may have passed through someone's future home! There have been a good number of consumers that have bought a steel container and renovated it for personal use.
So whether you're buying local and fresh produce, or you're buying a unique messenger bag, the chance of your product being made and/or transported in a shipping container is increasing.